TUESDAY, SEPTEMBER 20, 2005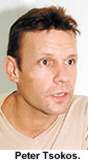 By Katherine Hoyt
On May 26th, 2005, Nicaragua's Supreme Court agreed to consider the request by indigenous rights lawyer Maria Luisa Acosta that a criminal case be opened against (Greek-born, naturalized U.S. citizen) land grabber Peter Tsokos and his lawyer Peter Martinez. Acosta believes the two men were the intellectual authors of the murder of her husband, Francisco Garcia, Bluefields businessman and science professor. Two men, Ivan Argüello and Wilberto Ochoa, have already been convicted in a Bluefields court of murder for hire. Police laboratories showed that the bullet that killed Garcia came from a gun belonging to Peter Martinez (which police obtained by going door to door to check guns with the claim that someone had been shooting into the air in the neighborhood).
WEDNESDAY, AUGUST 31, 2005

By Y


SUNDAY, AUGUST 28, 2005

By K


MONDAY, AUGUST 01, 2005

[8/1


SATURDAY, APRIL 30, 2005

Continue reading...
THURSDAY, MARCH 31, 2005

Continue reading...
THURSDAY, MARCH 31, 2005

[Thi


MONDAY, FEBRUARY 28, 2005

MONDAY, JANUARY 31, 2005

Febr


MONDAY, JANUARY 31, 2005

Febr