TUESDAY, JUNE 28, 2016
Nicaragua News Bulletin is Retiring!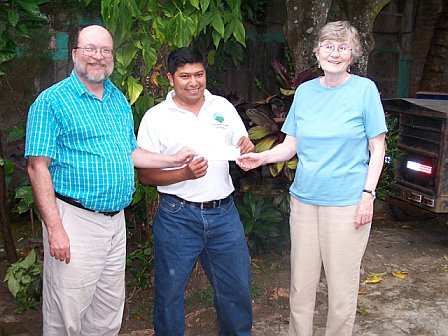 Nicaragua News Bulletin is Retiring!
June 28, 2016

Message from Kathy Hoyt:

The Nicaragua News Bulletin is retiring along with its compiler, Katherine Hoyt. I have retired several times before but this time it is for real, or almost, as I'll still be around for a few hours each month. The Nicaragua News Bulletin will be replaced by a blog entitled "NicaNotes" by Chuck Kaufman, about which more below.

The Nicaragua News Bulletin has a long and distinguished history. It is the successor to the Nicaragua Network Hotline and the Nicaragua News Service.
Photo: left to right, Chuck Kaufman, Miguel Marin of FEDICAMP, Kathy Hoyt.
The Hotline probably began in 1981 when Reagan was inaugurated and the contra war began. It was a recorded message with news and calls to action that you dialed in to listen to by telephone. It could only be two pages long as that was all the tape would record if you read along at a pretty good clip. When the internet appeared in the 1990s, we posted it on reg.nicaragua which was part of PeaceNet at igc.org. (Remember PeaceNet?) After we took over the weekly memo of the Central American Historical Institute in the mid-1990s, we mailed out print copies of a more extensive news summary to a wide list of scholars, activists, and libraries, including Stanford, Ohio State University, and Tulane University. Donna Vukelich, Coleen Littlejohn, Paul Baker, and Hannah Given-Wilson clipped newspapers in Nicaragua, wrote up a six page summary of the news from El Nuevo Diario and La Prensa, faxed it to us and we typed it up again (!) until e-mail attachments relieved us of that onerous task. Since June of 2008, I have been compiling the news summaries (with help from Chuck on a few articles each week) from the web pages of the various Nicaraguan media outlets while telecommuting from San Diego, something unimaginable a few years before! The Hotline and News Service were consolidated into the Nicaragua News Bulletin and we stopped sending out a print version, a change that was hardly noticed!

Our list of e-mail subscribers has also received action alerts on our campaigns to support union organizing in the Nicaraguan Free Trade Zone and to support Nicaraguan banana workers in their fight against Dow and Dole, and to oppose CAFTA, among other campaigns. Since the Sandinista return to power in 2007, we have reported on the advances in education, health care, renewable energy advances, economic growth and stability, and reduction of poverty, while reporting on continuing problems in some areas.

In January, I took four family members on what I called my "50th anniversary tour of Nicaragua" to mark one half century since I first arrived in Nicaragua in 1966 on the SS Hope Hospital Ship to work for ten months in Corinto as a shore clinic receptionist and interpreter (having had a Spanish minor in college). I married a young Nicaraguan doctor and lived in Nicaragua for 18 years. My years since returning to the US have been spent doing Central America solidarity work (including 25 years with the Nicaragua Network) and getting a Ph.D. in political science. Our three children were launched into careers and marriage and, at 72, I am the proud grandmother of seven grandchildren. They and the anthology of readings in early Latin American political thought that I'm working on will keep me busy in retirement!

It's been a great ride and I have made many friends along the way. Please stay in touch! You can still write me at Kathy@AFGJ.org. Chuck is now getting the e-mails for nicanet@AFGJ.org along with chuck@AFGJ.org.

Message from Chuck Kaufman:

For 25 of my 29 years with the Nicaragua Network I have worked with Kathy Hoyt to build US solidarity with Nicaragua and to give Nicaragua solidarity activists the information they need to know. With 50 years of Nicaragua experience ranging from living and raising a family under the dictatorship and then working for the revolutionary government, to solidarity in the US ranging from local in Detroit to national in Washington, DC and most recently from her home in Southern California, the depth of Kathy's knowledge and understanding of Nicaragua is unrivaled and certainly cannot be replicated by me. Her departure will leave a hole that cannot be filled.

At the same time, changes in Nicaragua, the US, and the world have been reflected in Nicaragua solidarity work, including in the work of the Nicaragua Network. Destruction of the Sandinista government is no longer the top US Latin America foreign policy priority. Our original Hotline, which Kathy described above, really was a hotline using the best technology of the time to alert and mobilize activists for urgent tasks to oppose the Contra War and US intervention policies. We don't need that level of mobilization today. Likewise, we don't need to be as informed on a weekly basis about Nicaragua's economic, social, and political news, because we're not likely to call on activists next week to drop everything and mobilize against US intervention.

Today we see Nicaragua's role as primarily a positive example of what can be accomplished, even by a poor country, if it has a true "preferential option for the poor." As a result, NicaNotes will take a more macroscopic look than the weekly "news report of record" that was the Nicaragua News Bulletin. We'll cover all the same topics, but instead of a short report one week on road construction in Chinandega, we might do a report once or twice a year on national road construction and what that means for peasants getting their crops to market, children getting to school, and how it works in concert with increased access to electricity to improve the quality of life for people in rural areas.

Some of our subscribers who like the microscopic view of the news from Nicaragua will be disappointed in this shift, but we hope that others, many of whom don't work exclusively on Nicaragua, will find the broader, more analytic articles useful to a broader range of their work. We hope to stimulate domestic issue activism by raising the question, "Why do Nicaraguans get to have nice things (like over half their energy generated from renewables) when we, in the richest country of the world, can't have them?"

I'll strive to have a new NicaNotes blog each week, and it will be sent to subscribers just as the Nicaragua News Bulletin is now. I also want to invite submissions of guest blogs which talk about aspects of Nicaragua within the context of solidarity with and support for the Sandinista government and Sandinista popular movements. The anti-Sandinista opposition, including some who used to be Sandinistas, has full access to the press in Nicaragua and exclusive access to the international corporate media, so they don't need our little blog to get their message out. The Nicaragua Network was formed in February, 1979, six months before the Triumph of the Sandinista Revolution, to support the armed insurrection. We have been in solidarity with Sandinismo for over 37 years and we're not going to change our stripes now.

That doesn't make us naïve or blind; it makes us respect and celebrate the tens of thousands of martyrs who gave their lives so Nicaraguans could live in dignity and have sovereign control over their destiny. Following the path of our own understanding of the meaning of solidarity, we see our primary role as to oppose US policies that interfere with, or close spaces for, Nicaraguan's right to resolve their own problems and chart their own destiny. We are not part of the debates within Nicaragua on how those issues should be resolved; only that the US does not have a legitimate role in their resolution.

I hope you will find NicaNotes useful and stimulating. I welcome your feedback and contributions, and hopefully we can strive together to make it a functional tool in your activist tool belt.
---