THURSDAY, FEBRUARY 05, 2015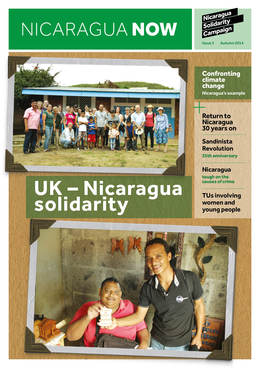 "Nicaragua Now" is the twice-yearly publication of the Nicaragua Solidarity Campaign of the United Kingdom, a sister organization of the Nicaragua Network. It covers subjects about Nicaragua and UK-Nicaragua solidarity.
TUESDAY, FEBRUARY 03, 2015

1. CELAC meets in Costa Rica with 33 leaders in attendance
2. Motorcycles deaths rise; Police launch Road Safety Campaign
3. Economic briefs: beef exports, minimum wage talks, coffee harvest, artisanal fishing
4. Assembly passes human trafficking law
5. Teacher pay increase announced
6. Affordable housing construction to grow in 2015
7. Director of World Food Program receives recognition
TUESDAY, JANUARY 27, 2015

1. Canal briefs: concern about delay in studies; protests continue; Ramsar representatives visit
2. Demands continue for lower electricity bills
3. Backpack bomb explodes in Pantasma, killing two; another dies from gunshot wounds
4. Head of UN Office on Drugs and Crime visits Nicaragua
5. Extreme alert for Chikungunya
6. CARUNA to provide US$40 million in small production loans
7. Managua to improve storm drainage system
8. Government opens two tourist restaurants featuring Nicaraguan food and coffee
9. Ortega congratulates new Greek prime minister
MONDAY, JANUARY 26, 2015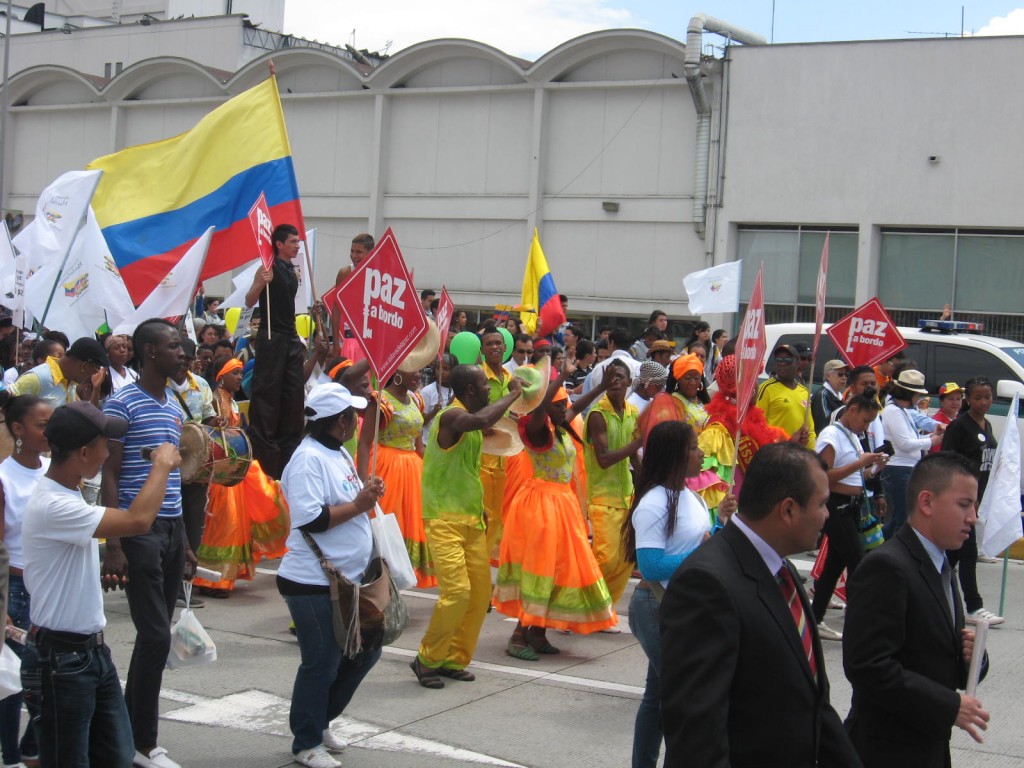 The Alliance for Global Justice has been invited by the Comité Permanente por la Defensa de los Derechos Humanos (Permanent Committee for the Defense of Human Rights - CPDH) to visit Havana, Cuba, in support of the Colombian peace process. Negotiators are making historic progress toward ending the world's longest standing major war.
TUESDAY, JANUARY 20, 2015

1. Registration begins for 2015 school year
2. New poll released by M&R Consultores
3. Russia's highest ranking woman political figure visits Nicaragua
4. US State Department gives Nicaragua low ratings on transparency
5. Opposition in Assembly introduces bill to lower energy rates
6. Ombudsperson for Sexual Diversity says police do not protect LGBT citizens
7. Nicaragua cost of basic food products second lowest in Central America
8. Compensation announced for some former banana workers poisoned by Nemagon
9. Police to crack down on bars and slot machine establishments
TUESDAY, JANUARY 13, 2015

1. Canal briefs: route modification, jobs, US and HKND on transparency, Al Jazeera English
2. Government outlines commitments for 2015
3. High winds cause power outages and fires and halt boat transportation
4. Government continues to prepare for natural disasters and forest fires
5. 2014 femicides reported
6. Clean energy production exceeds early estimates
TUESDAY, JANUARY 06, 2015

(This Bulletin covers two weeks—from Dec. 23 through Jan. 5.)
1. Confrontation between canal protesters and police on Christmas Eve leaves 21 injured
2. Nicaraguans celebrate Christmas and the New Year
3. Central Bank gives preliminary report on economic progress in 2014
4. Felipe Urrutia, singer, songwriter, and collector of Nicaragua's traditional music dies
5. Electrification and affordable housing make gains in 2014
6. Indigenous Mayangna highlight continued threat to Bosawas Reserve
7. Nicaragua is a leader in green energy production
8. Cecocafen's 17 years of service celebrated
9. Fortieth anniversary of Operation Victorious December marked
TUESDAY, DECEMBER 23, 2014

1. Government and HKND hold "symbolic" inauguration of canal construction
2. Ros-Lehtinen calls for sanctions against Nicaragua
3. Nicaragua celebrates release of Cuban Five; normalization of Cuba/US diplomatic relations
4. Bishops say "ideology of gender" leads to degradation and perdition
5. Bilwi neighborhoods to receive potable water
6. Economic briefs: food crops and energy
TUESDAY, DECEMBER 16, 2014

1. Fishing boat with 50 aboard capsizes in storm: two dead, 17 missing and feared dead
2. Canal news: anti-canal march; bishops learn more; HKND meets with businesses and unions
3. ALBA celebrates tenth anniversary at Havana summit
4. Voter identification cards expiration date extended through 2017
5. Earthquake drills prepare Nicaragua for possible killer earthquake
6. Low income housing makes strides in 2014
7. Delegation from San Andres meets with Nicaraguan Caribbean Coast residents
8. Changes to tax law pass in Assembly
TUESDAY, DECEMBER 09, 2014

1. Nicaragua celebrates Purísima with no one burned from fireworks
2. Government will not extend life of official ID cards past Dec. 31st
3. Power generating windmill explodes and collapses, causing blackout
4. Heritage Seed Alliance highlights success in organic farming
5. Social policy issues briefs: English teachers, domestic violence shelters, Chikungunya
6. Economic briefs: exotic fish, cane workers, drones
7. Nicaragua reads declaration at Peru climate change talks
8. Transparency International releases Index