FRIDAY, JANUARY 03, 2014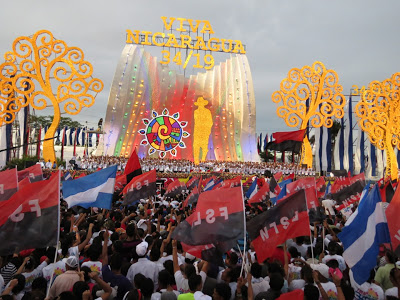 TOUCHDOWN DANIEL ORTEGA AND THE FSLN
By: Adolfo Pastran Arancibia (translated by Nicaragua Network staff)
Nicaragua lives an undeniable political reality. You can question, accuse, contradict and be in opposition to the government of Sandinista Daniel Ortega, even at any cost, but the real and tangible facts in the economic and social fields cannot be hidden.
Posted At 12:01 PM

Labels: Information
---
TUESDAY, DECEMBER 31, 2013

1. Holiday briefs: Bishops call to support family; 70,000 come home from Costa Rica; Christmas lottery winners from poor barrios; fireworks stand explodes in Matagalpa
2. Government makes public changes to Social Security regulations
3. Group lists "people of the year" for 2013
4. Nicaraguan Army continues search for sailors lost at sea in small vessel
5. Nicaragua requests cancellation of INTERPOL warrant against Pastora
6. Roads in RAAN reopened after heavy rains cut off areas
7. Nicaraguan workers buying power held steady in 2013
8. Honey production is an emerging industry
_________________________________________________________
Posted At 04:12 PM

Labels: Nicaragua News Bulletin
---
TUESDAY, DECEMBER 24, 2013

1. ALBA and PETROCARIBE approve new economic zone
2. Canal briefs: Supreme Court rejects challenges; Balladares named minister for infrastructure; impact studies on schedule
3. Nicaraguans prepare for Christmas and New Year; many thousands cross border from Costa Rica
4. Zero Hunger Program to buy 130,000 chickens from chicken farmers
5. Tremblers felt on weekend before 1972 earthquake anniversary
6. Motorcycles, deaths, and accidents multiply
7. False TELEVISA reporters returned to Mexico to serve sentences
______________________________________________________________
Posted At 11:12 AM

Labels: Nicaragua News Bulletin
---
TUESDAY, DECEMBER 17, 2013

1. World Court decision interpreted differently by Nicaragua and Costa Rica
2. National Assembly passes 2014 budget; solid growth predicted
3. Illegally hooked up electricity customers have to "legalize"
4. Indigenous denounce invasion by "colonizers"
5. Women's and Children's police stations increase as do solidarity volunteers
6. Sugar is Nicaragua's fifth highest export
7. Regional environmental groups meet on mining issues
__________________________________________________________
Posted At 09:12 PM

Labels: Nicaragua News Bulletin
---
TUESDAY, DECEMBER 10, 2013

1. Nicaraguans celebrate "La Purísima"
2. National Assembly approves "on first reading" package of constitutional amendments
3. Ortega opens door to dialogue with bishops
4. Ortega receives Honduras' president elect in Managua
5. 2013 to end with many more homes electrified
6. New coffee law expected
7. Ortega congratulates Maduro on election victory
________________________________________________________
Posted At 12:12 PM

Labels: Nicaragua News Bulletin
---
TUESDAY, DECEMBER 03, 2013

1. Ortega says there will be changes to constitutional amendments as a result of consultations
2. Laws governing Army and Police to be amended
3. Latinobarómetro poll has Nicaraguan government in fifth place in approval
4. Catholics celebrate 100th anniversary of Managua archdiocese
5. Army cracks down on nature preserve invasions; indigenous demand more enforcement
6. Agricultural production grows despite world price drop
7. Nicaragua praised for renewable energy production
8. Nicaragua complies with World Court order to fill San Juan River channel
_________________________________________________
Posted At 11:12 AM

Labels: Nicaragua News Bulletin
---
TUESDAY, NOVEMBER 26, 2013

1. World Court issues provisional measures that favor Costa Rica
2. Assembly committee completes hearings on proposed constitutional amendments
3. Twentieth victim dies of dengue
4. Plan Roof benefits 3,200 families in Managua's District Two
5. Microfinance sector grows 15% over last year
6. Free Trade Zone exports grow by 8%
7. Archaeologists discover ancient remains at Monkey Point
______________________________________________________
Posted At 03:11 PM

Labels: Nicaragua News Bulletin
---
TUESDAY, NOVEMBER 19, 2013

1. At one-year anniversary, Colombia still refuses to recognize World Court ruling
2. Hopes of oil wells dashed and revived in one week
3. State Department official says growth of Chinese investment in Latin America is "positive"
4. Government to improve teacher education
5. Thirty Nicaraguan Miskito Indians killed this year on Honduran border in land conflicts
6. Panama's Supreme Court reverses Aleman's 2002 money laundering conviction
7. 350 sea turtles liberated in Jiquilillo
8. Ambassador Francisco Campbell interviewed on PBS show
9. Nicaraguan documentary a triumph at the Smithsonian
__________________________________________________________
Posted At 04:11 PM

Labels: Nicaragua News Bulletin
---
TUESDAY, NOVEMBER 12, 2013

This News Bulletin covers two weeks
1. Ortega sends package of constitutional amendments to National Assembly
2. Travelers give report on trip to China
3. Russia and Nicaragua continue to strengthen relations
4. Coffee prices fall below production costs
5. Number of dengue fever victims hits almost 7,000
6. Two alliances and seven parties to participate in 2014 Caribbean Coast elections
7. Western Hemisphere communications experts meet in Managua
___________________________________________________
Posted At 06:11 PM

Labels: Nicaragua News Bulletin
---
MONDAY, NOVEMBER 04, 2013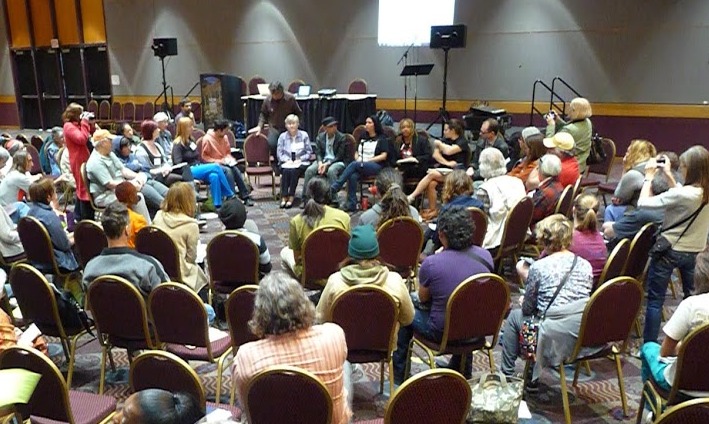 With over 400 people in attendence and 80 different workshops, the Tear Down the Walls National Gathering, held on Nov. 1 - 3 in Tucson, Arizona, was a success! The six people's power assemblies on Economic Justice, the Drug War, US Imperialism, Immigration, the Drug War, and the Prison-Industrial Complex proposed nationally coordinated days of action beginning in December and continuing through the New Year. Watch this space and the web page of the Alliance for Global Justice at www.AFGJ.org for more information!
Posted At 02:11 AM

Labels: Information
---